Real-world evidence comes into play when clinical trials cannot really account for the entire patient population of a particular disease.
Our unique approach to handle multiple sources, structured & unstructured data, inconsistency, variability & complexity within an ever-changing regulatory environment.
We go through each process in depth, so as to facilitate high-quality real-world data analysis.
Data Due Diligence
Healthcare data is unique and difficult to measure.
It resides at multiple places in multiple formats.
Making it essential to conduct rigorous data due diligence.
As it will also lay the groundwork for a successful real-world data analytics exercise.
Data Abstraction
Clinical data abstraction involves extracting & mining critical clinical information & its components from paper media to electronic media.
We use manual, NLP & simple query-based abstraction tools with required quality assurance & data validation to generate abstracted data.
Data Curation
Involves refining and enriching the data by identifying & correcting incomplete and incorrect data, as well as harmonizing, validating, and standardizing it.
The purpose is to maintain, preserve & add value to the abstracted data throughout the lifecycle of data.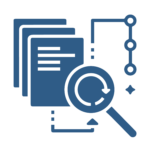 Data Analysis
Analyzing the data comprehensively is of immense value as data is now the value generator for most healthcare companies.
Our analyzed data is visualized in the form of Qlik view, Tableau, Excel, SPSS, etc.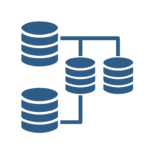 Data Modelling
Transforming raw clinical data into high-value clinical data models helps our clients to access data in a fashion that is easily understandable, meaningful & useable.
Electronic capture data model
Review data model
Submission data model
Analytics data model