Very recently I had this great opportunity to give a talk regarding "Opportunities and Challenges in Healthcare Sector in India" during one of the Start-up Saturday sessions organized by Headstart Network, at Ahmedabad Management Association. Let me say this upfront I am not an expert on the healthcare sector in India, still trying to find my feet on the ground in the past 15 months working on my preventive health assessment start-up Remedy Social. However, here are a few experiences and observations based on my efforts in the past few months that I shared during the presentation & wanted to share with a broader audience so that more people can benefit from the same.
It is no secret that healthcare is one of the largest spending drivers in developed countries, responsible for anywhere between 12% to 18% of GDP for various Western countries. However, despite all the major developments and economic progress, India remains one of the countries with lower spending on healthcare with the number being around 5-6% of the overall GDP being spent on healthcare. Pure macro-economic interpretation of these numbers suggests that the Indian economy will be growing at 6-10% per annum and on top of it our healthcare budgets will catch up with Western nations taking the industry CAGR to somewhere around 18-20%, which is highly impressive.
Also, there are a plethora of opportunities in this field as one has an opportunity to play across multiple sub-sectors as covered in various verticals in the below diagram, and an opportunity to develop a niche across various horizontals based on expertise in specific skill-sets that you bring to the table. While I show this framework, I am of course cognizant of the fact that describing the entire sector is less of an article and more of a book writing exercise, and also acknowledge the fact that one can never be 100% comprehensive in covering the breadth and depth of the sector.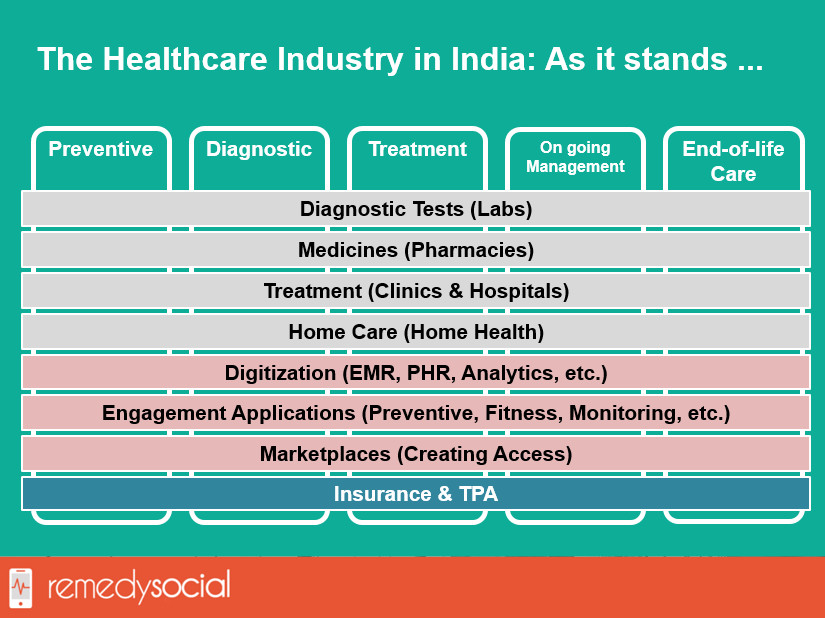 Not going through the pain-staking task of describing all the boxes above, I would like to mention a few that excite me the most as we look forward to the progress of this sector:
Marketplaces: One of the key challenges in healthcare has been access to the right information. More than anything else, marketplaces start addressing information asymmetry allowing people to access the best information, products, and services without having to pay an additional premium for the same.
Digitization: We have been a few years behind the other sectors when it comes to IT sophistication, but digitization creates avenues for a lot of user-friendliness, data creation, and analytics, improved efficiency, service quality, etc.
Home Care: Most importantly, home care brings healthcare to the patient's home, providing care within an environment that is preferable for the patient and less expensive as well. It generates convenience, improves care, reduced cost, and higher satisfaction. This sector had always existed but in a fragmented and unorganized manner. Now it is being organized and structured, creating new avenues for improving care and patient experience.
Moreover, there is a high level of perceived or actual unmet needs amongst both consumers and the care providers that I have experienced. Consumers or patients are looking for more:
(a) Awareness and transparency in the system.
(b) Improve the accessibility to services.
(c) Cheaper solutions that make care more affordable.
(d) Improvement in quality of service.
(e) Above all, improve the experience while getting care.
At the same time, healthcare providers are struggling with:
(a) People issues such as workforce availability, recruitment, and retention continue to be one of the biggest challenges.
(b) Process issues in terms of ensuring operational efficiency and managing EBITDAs.
(c) Performance pressure for ensuring quality and consistency, both in terms of clinical quality and customer service.
(d) Publicity as they need to constantly identify appropriate avenues to improve awareness and attract more patients.
Despite all these gaps and growth opportunities in the industry, if only it were that easy to establish and grow a healthcare enterprise … what more could one wish for. This is a very nuanced industry and requires a lot of context around the science, the process, and the inherent age-old culture that drives this industry. Here are the top six challenges that one should be aware of and build a mitigation strategy around as you venture into this sector:
Business of Trust: Health is always a sensitive area and people don't trust you very quickly with serving them, it takes time to gain the trust of doctors & patients in this industry.
Set Stakeholder Interactions: Healthcare ecosystem stakeholders have strong connections, and set incentive and revenue sharing models, which you need to understand and carefully position your service within that construct.
Very Nuanced: Healthcare is not straight-forward like any other industry where one can go ahead and build aggregators, marketplaces, etc. and leave it open to vendors for listing and servicing individuals. Regulations, workflows, service quality levels, etc. are more complex and nuanced.
Talent is Expensive: As a result of the nuanced nature of the industry, talent is expensive in this field. It isn't easy to get people who are knowledgeable, talented, and experienced in this industry.
People Don't Spend: Despite of high cost involved in developing capabilities and servicing individuals, people still don't spend that easily on healthcare. Health is not always a top priority for many individuals unless it becomes an emergency.
Competition from Large Incumbents: Above all this is aggressive competition from large incumbents with deep pockets, that are heavily expanding their service portfolio to provide 360-degree coverage. Whatever service or product innovation you might develop, usually it is very easy for these large players to emulate and provide it across a wide geography
Now all this being said, this list wasn't meant to scare anyone or discourage them from entering this market. However, the idea is to help others like myself be better prepared as you venture into this promising space. It has always been my core philosophy that there is no point pondering … the only way to do a start-up is to "get started" … & find a way to just survive long enough, till you succeed.